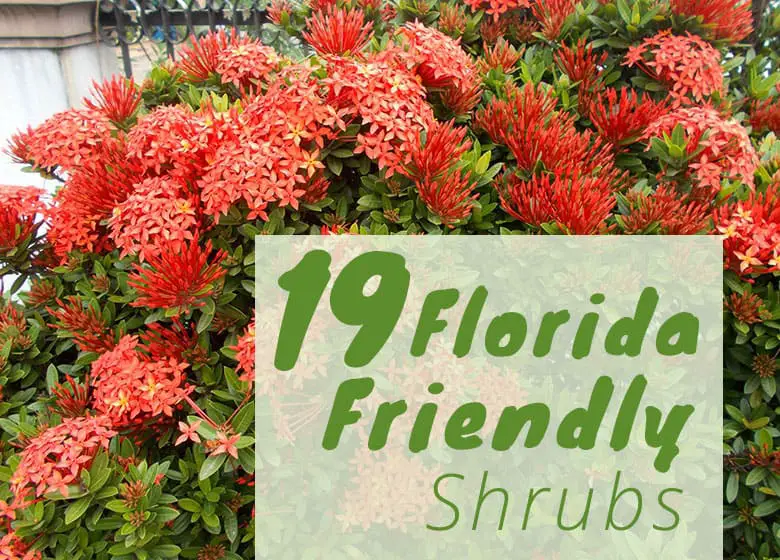 What are the best shrubs to grow in Florida?
The most popular shrubs to grow in Florida are Bay Laurel, Beautyberry, Holly, Firebush, Ixora, Loreptelum, Simpson's stopper and Viburnum to name a few. These shrubs vary in size and look but they all thrive in Florida's subtropical climate.
Whether you live in North, Central or South Florida, selections include everything from native, flowering, evergreen, to those that are heat-, salt- and drought-tolerant.
For a headache-free landscape, it's always best to grow shrubs that aren't too fussy and can take what Florida's subtropical weather throws at it. Regardless of your design style, desired size and form in a shrub, you won't be disappointed in all the varieties that meet your needs and landscape dreams.
Continue reading because we discuss some of the very best shrubs for Florida landscapes throughout the state, their characteristics and preferred cultural conditions.
Shrubs for a Florida-Friendly Landscape
It doesn't take being a professional landscaper or gardener to create a Florida-friendly landscape. The basics of having a Florida-friendly landscape means creating a beautiful landscape that conserves water, adapts to local conditions, protects the environment and tolerates drought and this is where Florida-friendly shrubs come into play.
Using low-maintenance shrubs tolerant to Florida's environmental conditions not only saves you time, energy, and money in the garden but also conserves water and assists in protecting our natural resources.
Shrubs listed below all meet the requirements for being Florida-friendly and won't have you spending hours in the garden or a ton of money trying to keep them looking their best. As always, make sure to know the specific plant's preferred cultural conditions so you can plant the right shrub in the right location.
Banana Shrub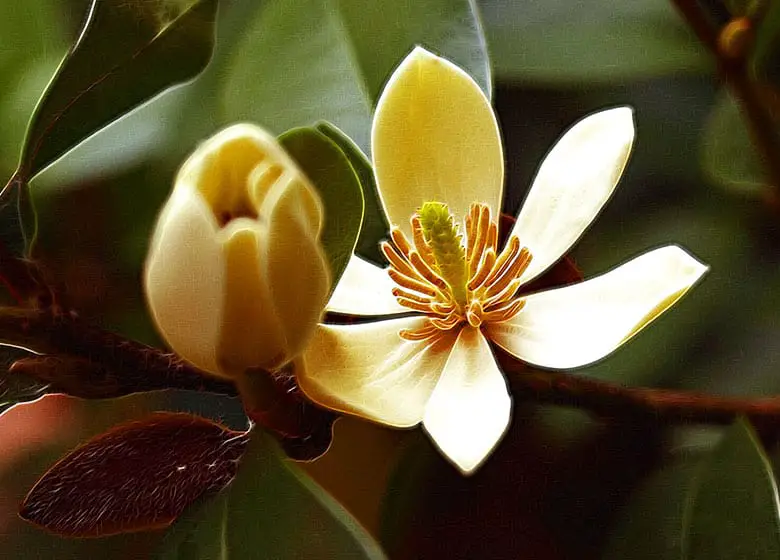 A hardy flowering evergreen throughout the state, banana shrub belongs in the magnolia family and in fact, resembles a dwarf magnolia slowly growing around 10 feet tall. The rounded canopy fills with 4-inch oval and lustrous dark green leaves with the undersides covered in brown hairs.
The 1.5-inch light yellow magnolia-like blooms burst onto the scene in spring, lasting until early summer. The fragrant blooms are said to smell like cantaloupes or ripe bananas, thus its common name. It works well as a potted specimen, borders, screens, or as an espalier. Grow in sun to light shade and in fertile well-drained soils.
Bay Laurel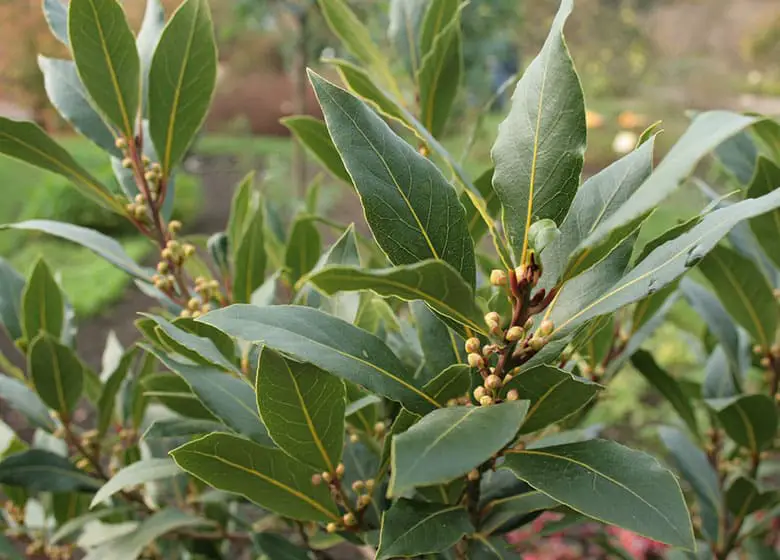 Bay laurel shrubs form into hardy medium to large-sized evergreen shrubs averaging around 12 feet tall. You can create a tree form by pruning off lower branches to create a single trunk. The thick leathery green leaves are very aromatic and used for culinary purposes.
During springtime, small clusters of yellowish-green insignificant flowers bloom and spent flowers on female shrubs change into small black berries. This showy shrub performs best planted in full sun to shade and in rich, well-drained soils given regular water applications. Bay laurel works well grown in containers, planted in mass or used for a hedge or screening shrub.
Beautyberry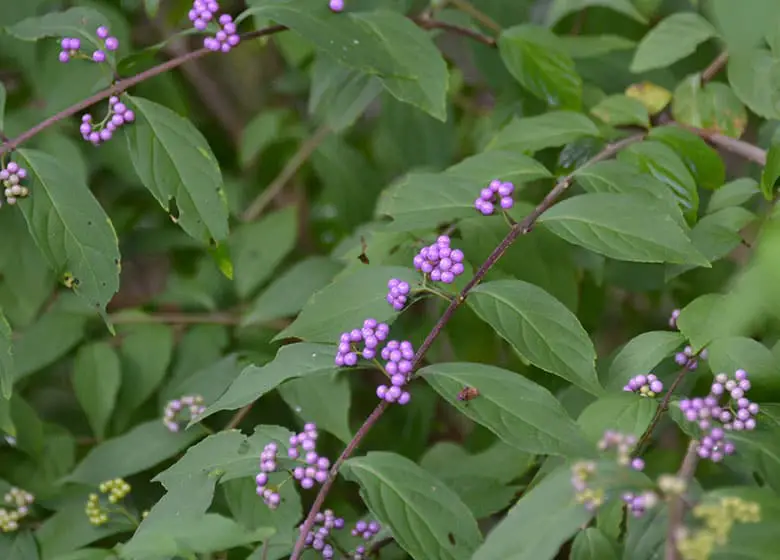 Beautyberry is a native deciduous shrub producing clusters of tiny lilac flowers in springtime, giving way to large clusters of brilliantly colored purple berries in fall that attract birds and will definitely grab the eye's attention.
It grows 6 feet tall in partial shade and in various well-drained soils and is drought- and salt-tolerant. It works well in native, wildlife and mixed, woodland or informal gardens. Beautyberry is hardy growing throughout the state.
Crepe Jasmine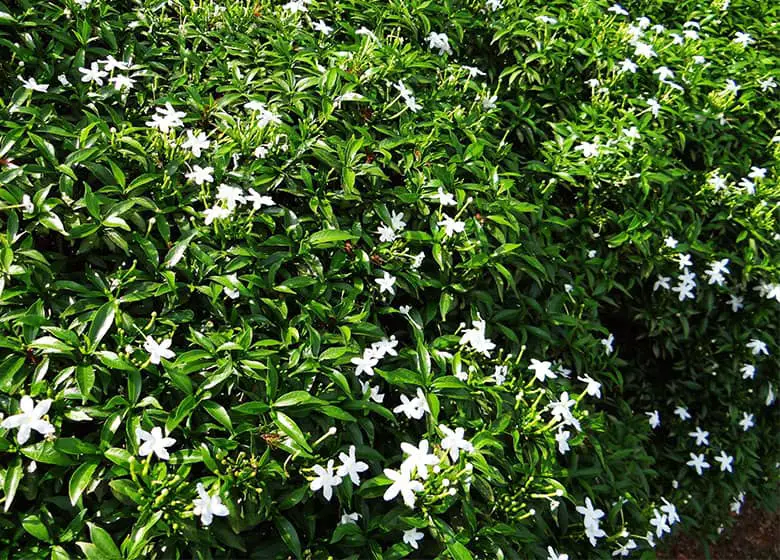 Crepe jasmine forms into a rounded and densely branched evergreen shrub that is quite attractive with its glossy green 4- to 8-inch leaves. It's frost-tender and is best suited for gardens located in Central and South Florida. However, those in northern regions can grow it in containers and protect in a warm location during winter.
Adding to the plant's wow factor are the abundance of waxy white flowers that are highly fragrant at night and shaped like a pinwheel, thus another common name pinwheel flower.
Crepe jasmine grows around 6 feet tall and almost as wide, preferring a sunny to shady location with acidic, well-drained soil. Established plants are moderately drought-tolerant. Fragrant addition to moonlight gardens, utilized as a specimen, hedge, screen or foundation planting.
Dwarf Holly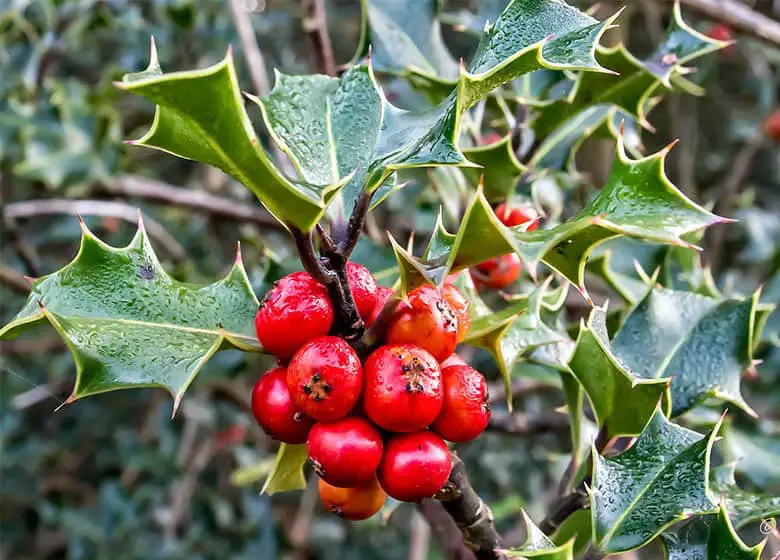 With their glossy evergreen foliage and brightly colored red fruits during winter, native dwarf hollies make attractive and carefree additions used as foundation plantings, hedges, borders, native gardens or in containers. However, dwarf holly shrubs are dioecious, which means there are male and female plants and if you desire those red berries, you'll need females.
Dwarf hollies growing statewide include 'Nana' and 'Shillings Dwarf' and 'Taylor's Rudolph.'
'Nana' grows around 3 feet tall and wide at maturity and rarely produces red berries. 'Shillings Dwarf' is a male and doesn't produce the red berries, growing around 4 feet tall with the same spread and 'Taylor's Rudolph' produces red berries, growing about 3 feet tall and wide. Grow in sun to partial shade and in acidic well-drained soils.
Firebush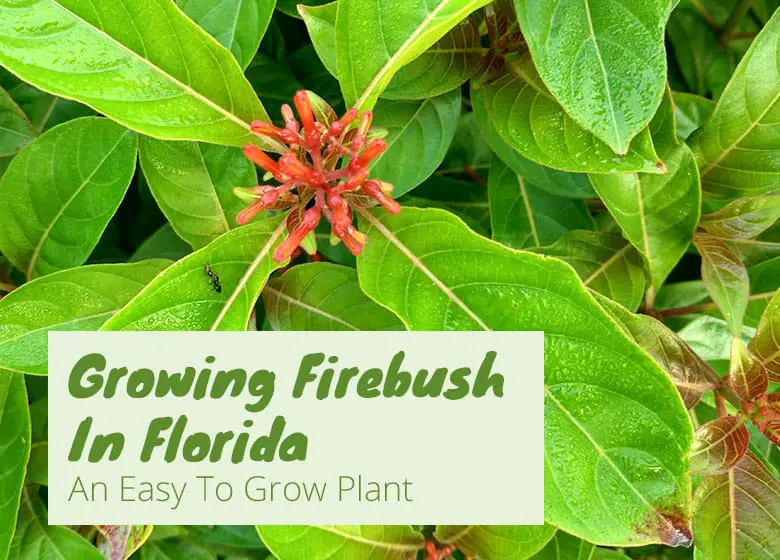 Firebush is a durable perennial flowering shrub producing 4- to 8-inch leaves covered in fine red hairs when immature and speckled in red once mature. Blooming almost year-round, the shrub fills with thin reddish-orange tubular flowers that attract hummingbirds and butterflies, making it a great addition to wildlife and butterfly gardens.
Small black edible berries follow the flowers. The shrub grows up to 12 feet tall and half as wide, preferring a variety of well-drained soils and planted in full sun to shade. Firebush is salt- and drought-tolerant and useful as a foundation plant, in containers, informal hedges or screens, or in the background to add constant color.
Firethorn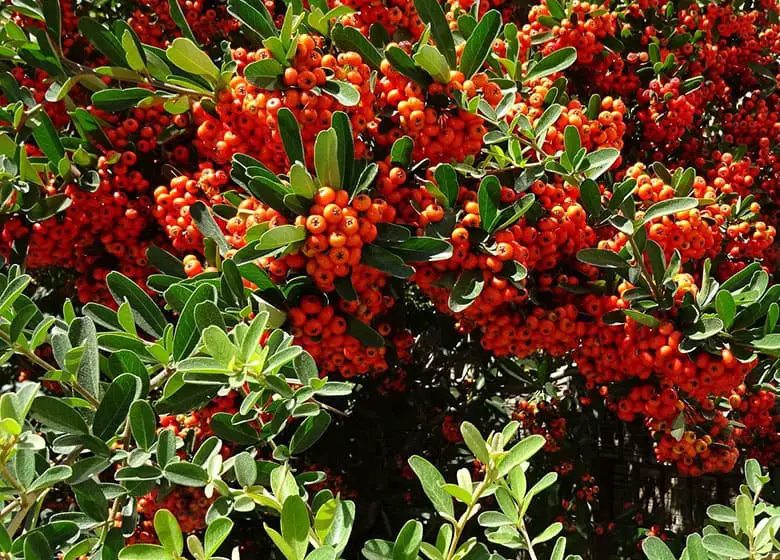 Pyracantha, Suitable for Central and North Florida, firethorn is a durable evergreen shrub that brightens fall landscapes with clusters of red berries that attract birds. The large shrub quickly grows into a tangled mound 10 feet tall and as wide, with thorny branches covered in glossy green leaves.
Clusters of fragrant small white flowers fill the shrub in springtime and bright berries that follow offer year-round color. Firethorn isn't particular about soil type and grows well in sun to shade, although brighter conditions produce more blooms and berries.
The shrub is also drought- and salt-tolerant, thriving on neglect. Due to its thorny nature, use firethorn where children won't encounter the shrub. Additionally, use as a barrier, informal hedge, on slopes, espalier or in containers.
Ixora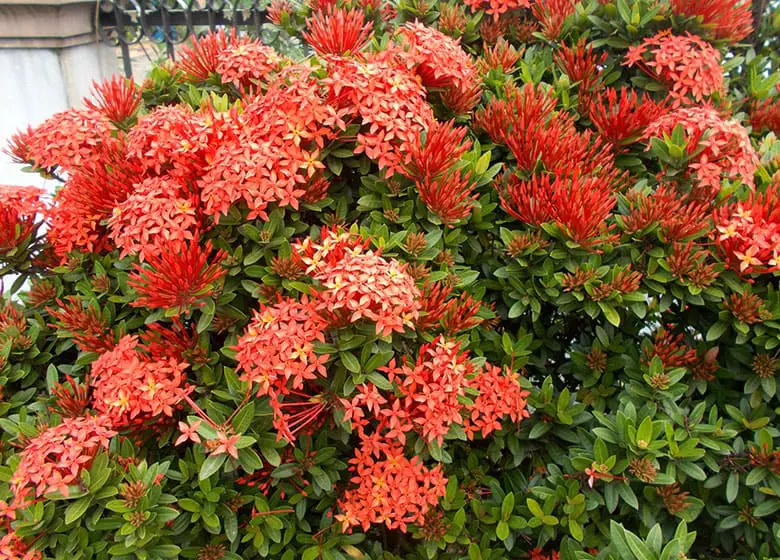 Ixora (Ixora spp.): Gardeners in Central and South Florida have multiple choices in ixora varieties that brighten landscapes year-round with colorful flower clusters lasting for six to eight weeks.
Depending on the type, the evergreen shrubs produce flowers in colors of pink, yellow, red, orange or white. Glossy green leaves accent the colorful flowers. Varieties of this heat-, drought- and salt-tolerant shrub grow anywhere from 4 to 15 feet tall with a similar width.
Ixora blooms best in full sun but tolerates partial shade and grown in well-drained acidic soil. The shrub makes an attractive foundation plant, hedge, used in mass plantings or mixed gardens and used to brighten a patio or entranceway in pots.
Loropetalum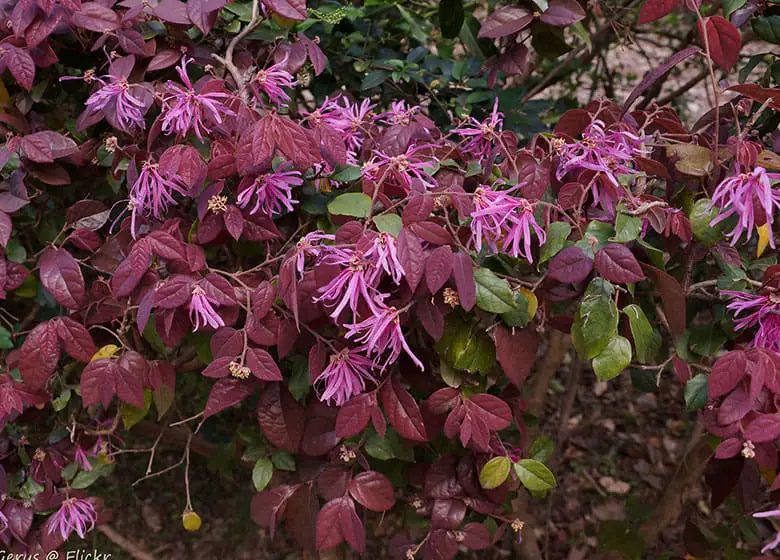 Also called Chinese fringe flower, due to the clusters of pink frilly blooms produced in spring, Loropetalum makes an attractive and colorful addition to landscapes statewide.
The evergreen shrub develops a vase shape with drooping branches covered in small oval green leaves that are glossy and grows 6 to 15 feet tall with a similar spread. It performs best in acidic well-drained soils and in a site receiving full sun to partial shade.
Loropetalum adds color and interest to borders, mass plantings, hedges, screens or used in containers.
Oakleaf Hydrangea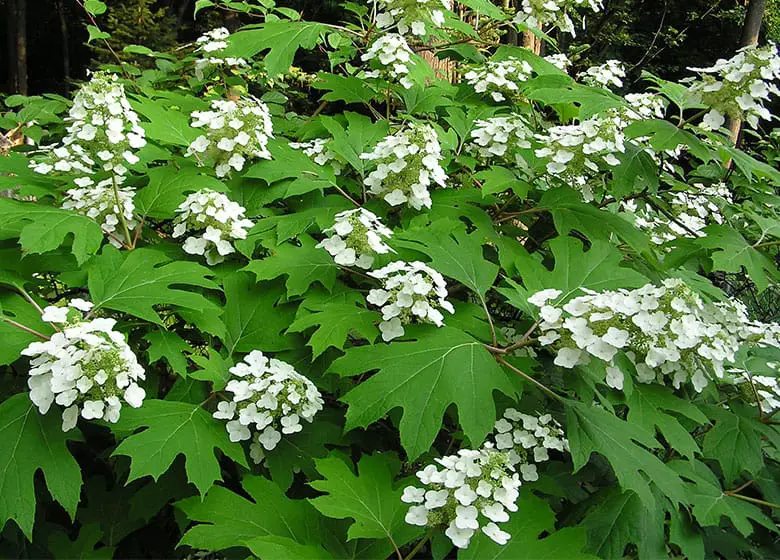 Oakleaf hydrangea pumps up the color and interest in gardens throughout the state. The deciduous large, green oak-shaped leaves are 8 to 12 inches long and add fall color as they change to bronze, purple and red before dropping.
During summer, the hydrangea produces large cone-shaped clusters of white flowers that stay on the shrub for months, with the blooms eventually changing to pink or purple.
The shrub can grow 10 feet tall and have a wider spread. In Florida, it performs best in partial shade to full shade and grown in well-drained acidic soils. It works well used as a backdrop, shade gardens, mass plantings, accent plant or specimen or used as a screen.
Oleander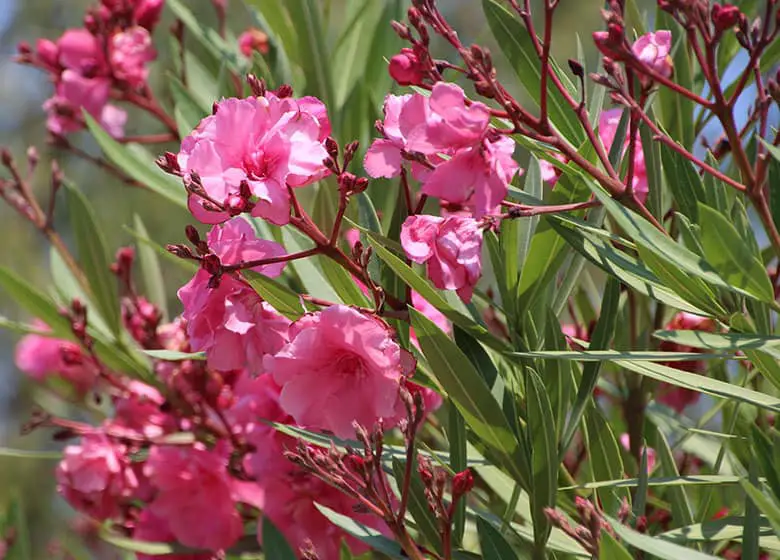 Oleander is a fast-growing, low-maintenance evergreen shrub or tree that brightens gardens with its almost year-round flowers for gardeners living in Central and South Florida.
Frost-sensitive, those in North Florida can grow it in pots and protect during winter. Oleander has a mounding shape with long branches covered in long dark green foliage.
Clusters of brightly colored flowers cover the shrub most of the year and range in colors of white, pink, yellow, red or coral and can be single or double, depending on the cultivar. The shrub grows 10 to 18 feet tall, spreading about 10 feet, and dwarf cultivars average 4 feet wide and tall.
This durable shrub is heat-, salt- and drought-tolerant, growing in even the poorest well-drained soils and thrives in full to partial sun. Use as a specimen, accent, hedge, screen or to brighten up a pot. All portions are toxic.
Pineapple Guava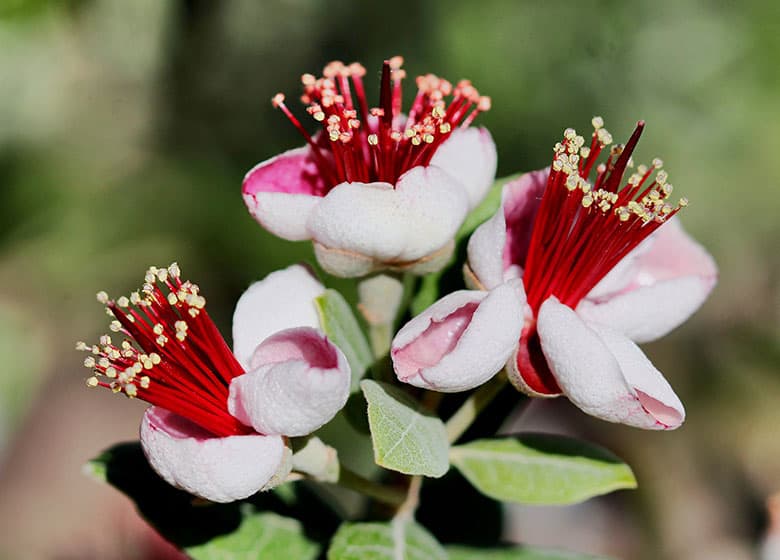 Pineapple guava is a good choice for those wanting an attractive flowering shrub that offers the bonus of edible fruit. This durable and low-maintenance shrub grows throughout Florida and can be pruned into tree form.
Growing up to 15 feet tall and wide, pineapple guava plants are covered in egg-shaped silvery and green evergreen foliage and in spring, 2-inch flowers form with pink or white fleshy petals with noticeable red stamens, which form into egg-shaped fruits.
Fruits ripen in late summer through early fall. It grows best in full sun to partial shade and in well-drained acidic soil. Plants are salt- and drought-tolerant.
Simpson's stopper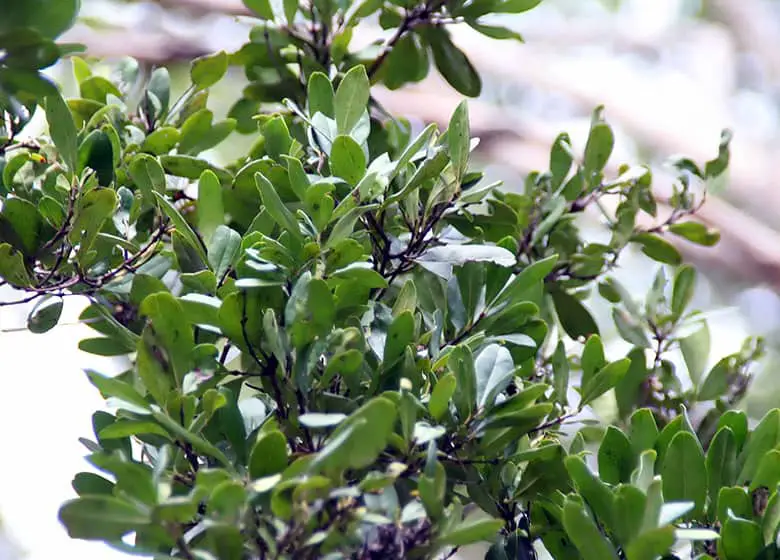 Simpson's stopper is a Florida native that offers a wealth of attributes like fragrant flowers, colorful berries, evergreen foliage, as well as being low-maintenance and salt- and drought-tolerant.
Showy white flowers bloom in spring, followed by red berries, with both attracting various birds and butterflies. An additional showstopper is the exfoliating bark.
The shrub can grow 20 feet tall and almost as wide and prefers growing in a range of soils, including the poorest and in full sun to partial shade. It's useful as a hedge, screen, used as a colorful backdrop or in mixed gardens.
Star Anise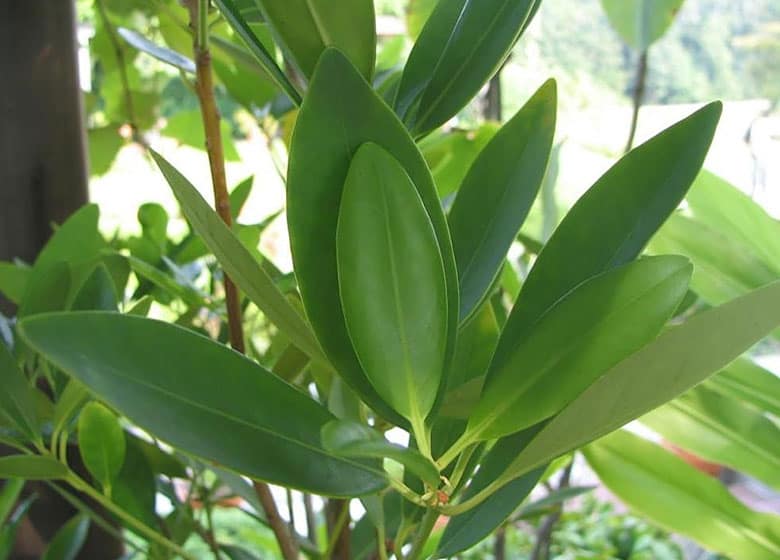 Illicium verum, not to be confused with Illicium Parvifrom- False Anise. False anise can not be used as a spice and is actually toxic, so be mindful of how you will use this shrub.
Florida has three native species of anise and all are hardy growing statewide. All sport leathery olive-green foliage that has a licorice smell when crushed and covers slender branches that droop, creating a rounded and open canopy.
All three anise types average 10 to 15 feet tall with a similar spread. The fragrant star-shaped flowers bloom in spring and summer and depending on the variety are red or yellow.
Shrubs grow well in sun or shade and in fertile acidic soil kept moist through regular water applications. Use this attractive shrub as a hedge, screen, border, foundation planting, and espalier or in containers.
Starburst Clerodendrum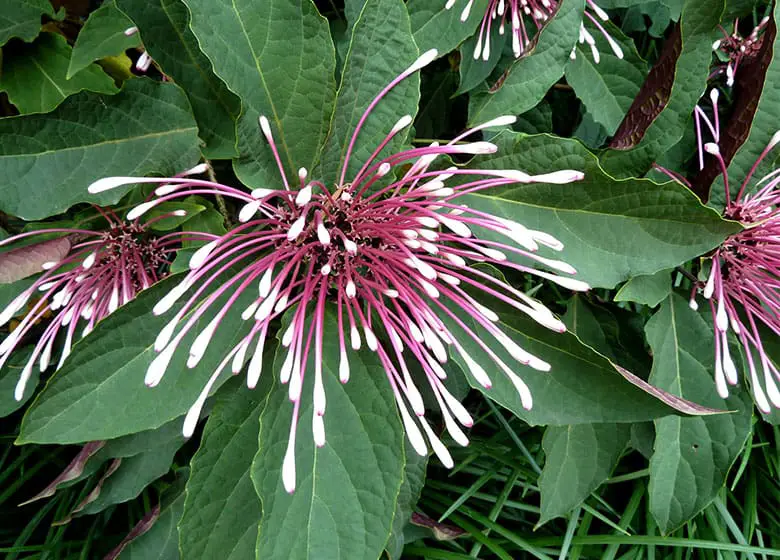 Starburst clerodendrum's clusters of tubular flowers topped in white and pink on the bottom are landscape showstoppers as they fill the evergreen shrub in mid-winter through spring.
The foliage is just as showy with green tops and tinges of purple and the underside a glossy purple. Growing around 15 feet tall, you can prune the clerodendrum into tree form.
The shrub is hardy growing in Central and South Florida, performing best in full to partial sun and in moist but well-drained soil. Use as a showy specimen or accent plant, backdrop, mixed garden or hedge or screening shrub.
Turk's Cap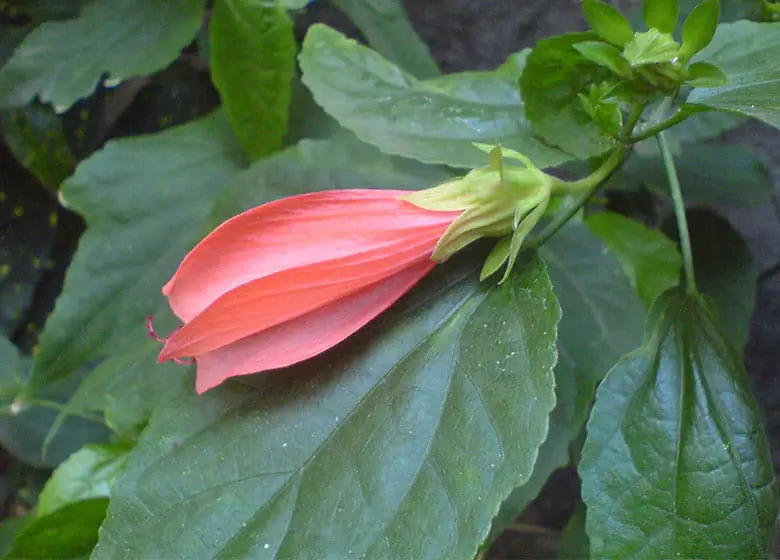 Turk's cap is a common name that's attributed to two related plants, Malvaviscus penduliflorus and Malvaviscus arboreus. Both bloom with similar hibiscus-like red flowers that never fully open, although M. penduliflorus flowers hang downward and M. arboreus flowers stand upright.
Both were once staples in old Florida gardens throughout the state, with their brilliantly red flowers and rich green leaves adding a pop of color during the hot days of summer.
Hummingbirds delight in the flowers, making the plants good additions to butterfly or wildlife gardens. These hardy shrubs are drought- and salt-tolerant, thriving in full sun to shade and in well-drained soils. Use in mixed borders, hedges or as a colorful accent plant.
Viburnum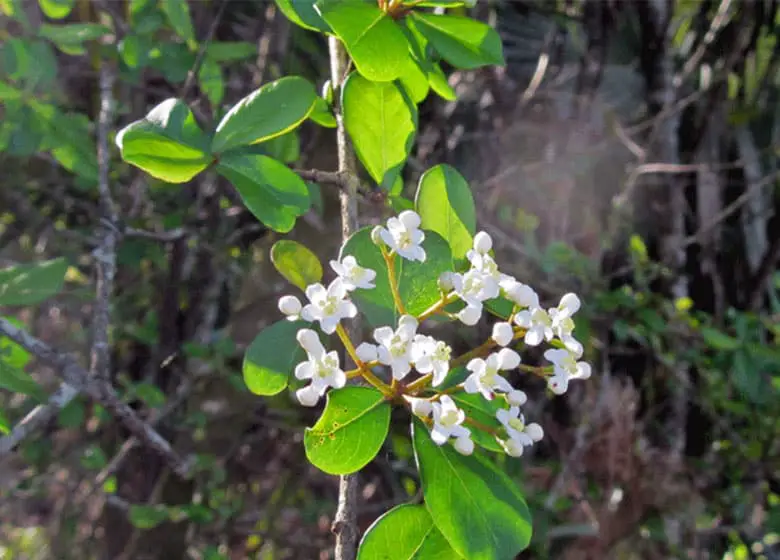 Hardy throughout Florida, native Walter's viburnum is an attractive evergreen shrub sporting fragrant foliage and covered in a mass of white flowers in mid-winter, and followed by red to black fruits that are highly desired by birds.
The Florida native grows up to 20 feet tall with a spread of about half the height and can be pruned into tree form.
This durable and low-maintenance shrub is drought-tolerant, thriving in full to partial sun and in well-drained soils. Walter's viburnum is a useful addition to wildlife gardens, used as a hedge, screen, espalier, or trimmed into a topiary.
Wax Myrtle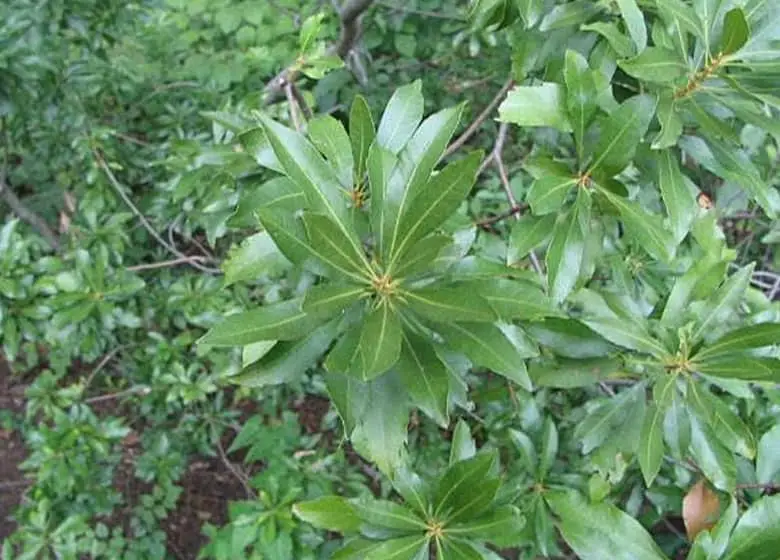 Wax myrtle is a native shrub or small tree that has multiple landscape functions and thrives statewide. It gets its common name from the clusters of bluish-gray waxy berries that attract birds and once were utilized in candle making.
Growing up to 25 feet tall with a similar width, aromatic evergreen leaves cover the branches and the shrub takes on a rounded form. The tough and easy to grow salt- and drought-tolerant shrub tolerates a range of conditions from full sun to partial shade and wet soils to those that are dry.
Works well as a screen, hedge, specimen, accent plant, wildlife gardens or grown in containers.
Yaupon Holly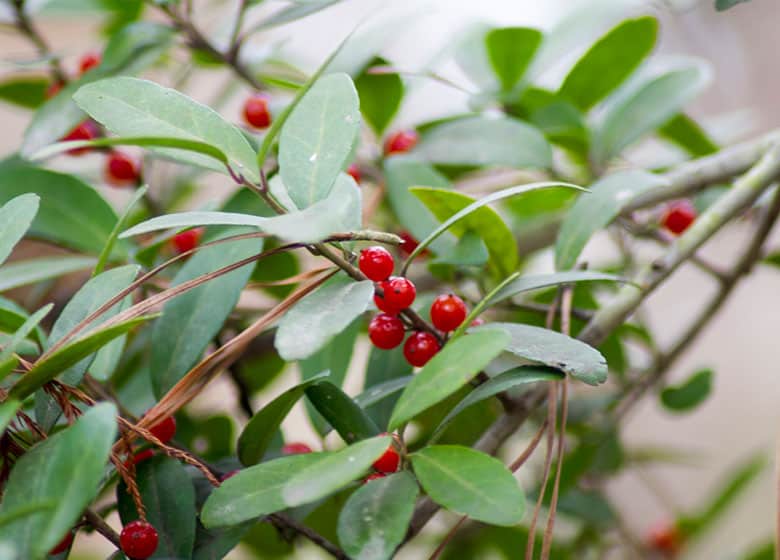 Hardy in North and Central Florida, native yaupon holly is a tough and low-maintenance evergreen shrub or small tree. The holly is dioecious, meaning there are female and male plants, and although both produce insignificant white flowers, only females produce the colorful winter berries ranging in colors or yellow, orange or red that are a delight to birds.
Growing 15 to 20 feet tall with a similar spread, yaupon holly is salt- and drought-tolerant, thriving in full sun to shade and in various soils from wet to dry. The holly is a useful addition in wildlife and native gardens, used as a hedge, screen, accent or specimen.
What is a Shrub?
Shrubs are described as small to medium-sized perennial plants containing multi-branched woody stems without a main trunk that grow above ground. Shrubs can be evergreen or deciduous, dropping their foliage in winter.
Shrubs are usually distinguished from trees by a height that is shorter and multiple stems without a main trunk. When comparing a shrub from a tree, shrubs are shorter, growing shorter than 20 to 33 feet tall. Smaller shrubs, usually classified as subshrubs are shorter than 6.6 feet in height.
How to use shrubs in the landscape
Shrubs have numerous uses in the landscape and many times set the foundation of design in the area. Whether you're looking for color, fragrance, texture, size, structure or ease of growth, there's a shrub that fits your needs and the choices are almost endless.
Depending on your design goals in the landscape, shrubs work well used as:
Hedges
Privacy screens
Specimens and accent plants
Mixed gardens
Borders and walkways
Containers
Backdrops to smaller plants
Additionally, shrubs can add color to an otherwise bland landscape with flowers and colorful foliage, especially during winter. They also work well used in woodland, wildlife and butterfly gardens.
Always follow the rule of planting the right plant in the right place, which means to know your area's conditions and the conditions the particular shrub prefers. Additionally, always plant different types of shrubs together that have like needs. This cuts down on potential problems.
You Might Also Like: