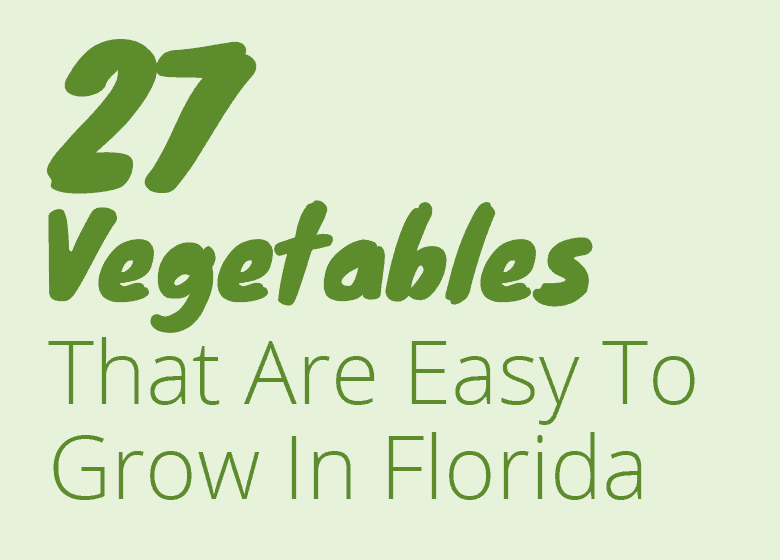 What vegetables grow best in Florida?
There are a plethora of foods that you can grow in Florida and vegetables are no exception. Here is a list of 27 vegetables that you can grow in Florida.
Beans
Beets
Broccoli
Brussel Sprouts
Cabbage
Carrots
Cauliflower
Collards
Corn
Cucumber
Eggplant
Kale
Kohlrabi
Lettuce
Mustard
Okra
Onion
Peas
Peppers
Potato
Radish
Spinach
Squash
Sweet Potato
Swiss Chard
Tomato
Turnip
Every vegetable on this list will grow in Florida. But this doesn't mean that some vegetables don't grow better than others.
For instance, I have never had very good luck growing green peppers. For whatever reason, I just can't seem to grow the dang stuff!
But Collards, on the other hand, are a completely different story. I've found them very easy to grow. I have a feeling this is something that will vary for a lot of gardeners so you just have to get your hands dirty and find out what works best for you.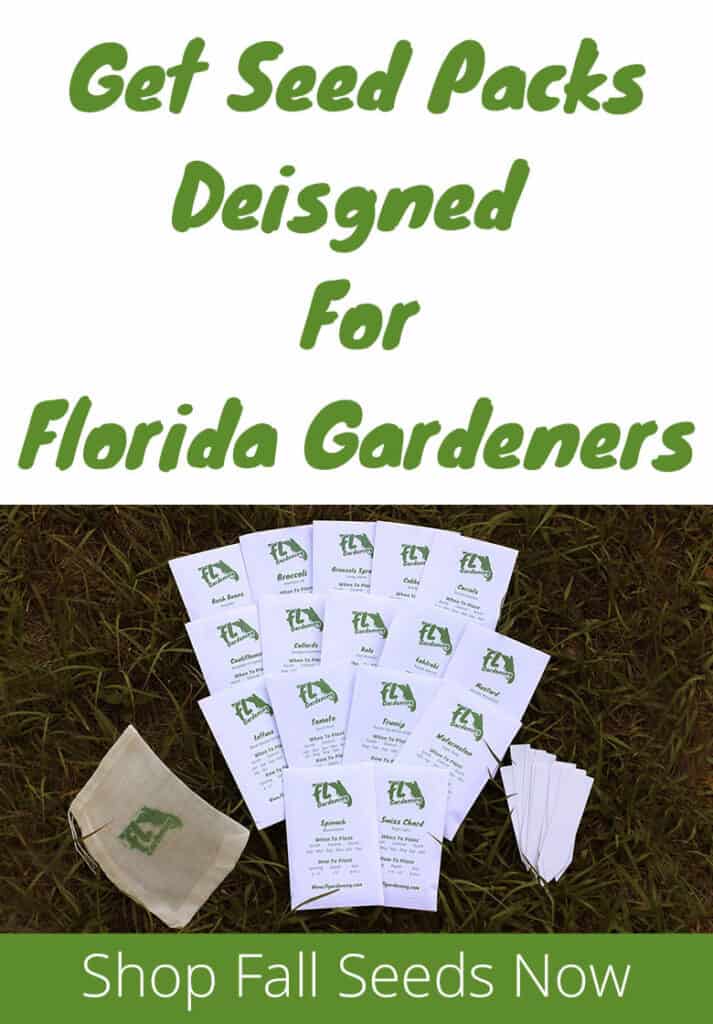 What Vegetables Grow Best In Florida?
Beans
Beans are one of the easiest vegetables that I have ever grown. They grow fast and they grow big.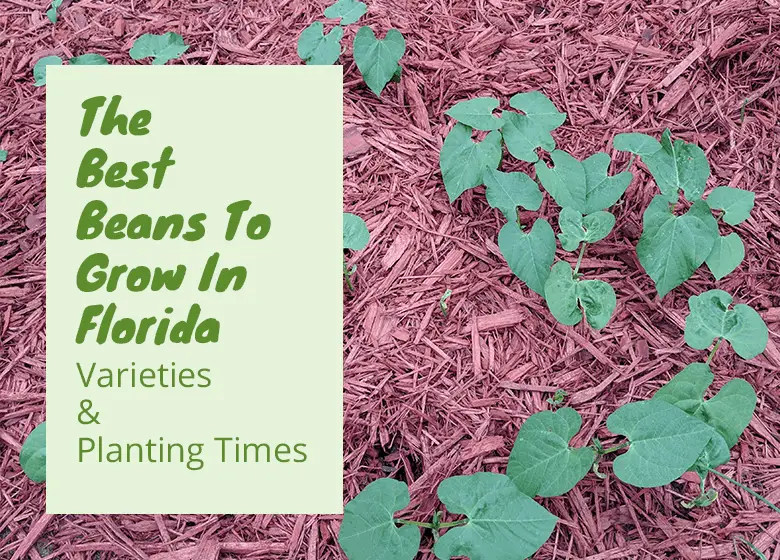 This combo makes you feel proud as a gardener. Beans can make you look like you know what you're doing in the garden. Lots of show for only a little work.
There are a few different kinds of beans that you can grow but the three most popular are Pole beans, Bush Beans, and Lima Bean.
Florida Friendly Bean Varieties:
Bush: Bush Blue Lake, Contender, Roma II, Provider, Cherokee Wax
Pole: McCaskan, Kentucky Wonder, Blue Lake
Lima: Fordhook 242, Henderson, Jackson Wonder, Dixie Butterpea, Early Thorogreen
Bush Blue Lake beans are one of my favorites. Easy to harvest and superabundant.
Beets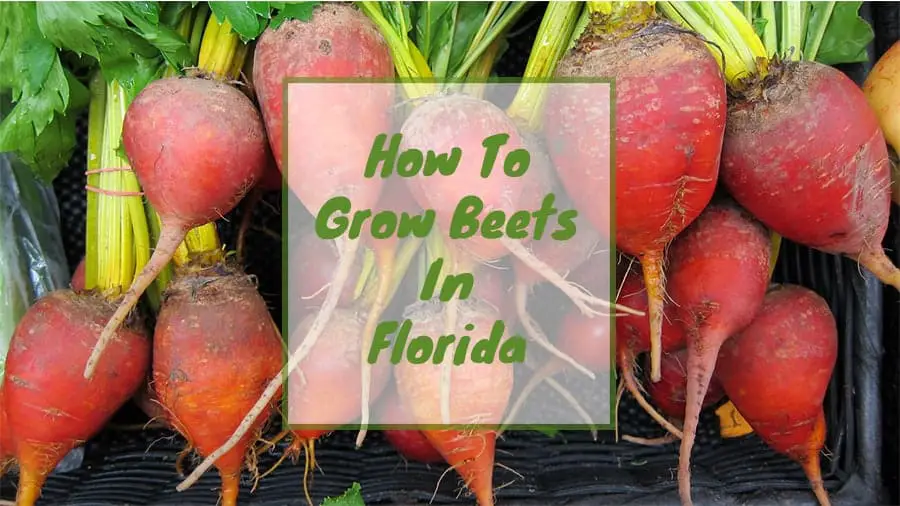 Another fast-growing crop, beets are usually ready to harvest in about 2 months.
Beets don't take up too much room in the garden so you can really cram a lot of beets in there.
Florida Friendly Beet Varieties: Cylindra, Tall Top, Detroit Dark Red, Early Wonder, Red Ace, Yellow Detroit.
I wrote I detailed article about growing beets in Florida, click on the link if you want a deeper dive on growing beets.
Broccoli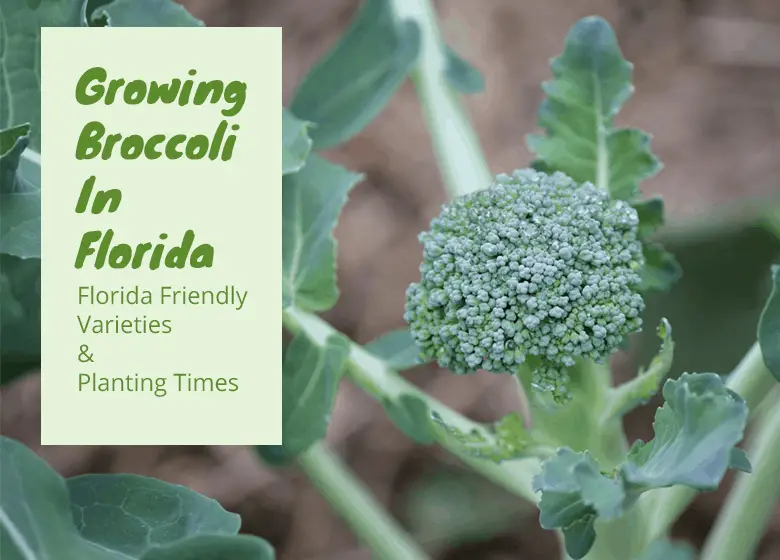 Baby trees, otherwise known as broccoli is a vegetable the enjoys our cooler growing months.
Broccoli usually takes 80-100 days to be ready to harvest.
After you harvest the main head on your broccoli plant it will begin to produce smaller shoots off beneath where the main head once was that will continue to produce for you.
Florida Friendly Broccoli Varieties: Calabrese, De Cicco, Early Dividend, Early Green, Packman, Waltham
It's best to harvest the heads of your broccoli before the flowers open.
Brussels Sprouts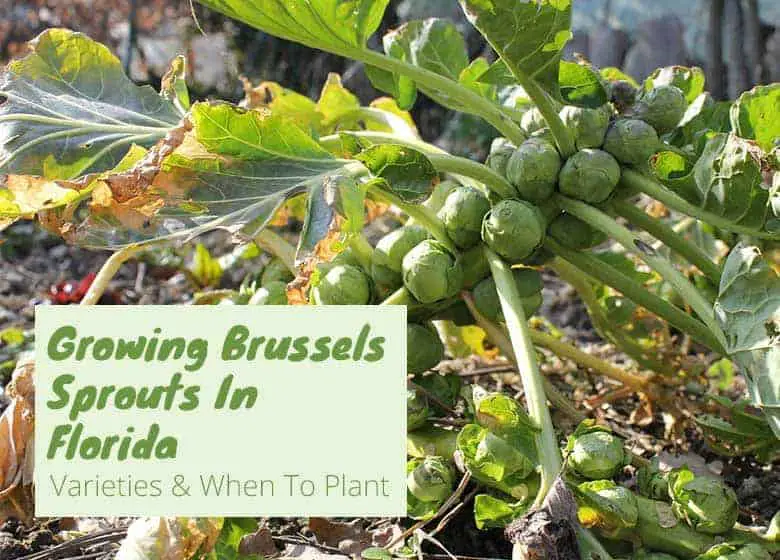 Brussel Sprouts get a bad rap sometimes. I think oven-roasted Brussel sprouts with garlic is a fantastic meal.
I live in central Florida and I have failed at growing these guys twice. Cool-weather is needed if you want your sprouts to fully ripen. Brussel sprouts need weather that is right around 60°F in order to fully ripen.
Florida Friendly Brussels Sprouts Varieties: Jade Cross, Long Island Improved
South Florida will have a tough time growing this vegetable.
Not all of the sprouts will mature at the same time. Begin harvesting from the bottom up as they become firm.
Cabbage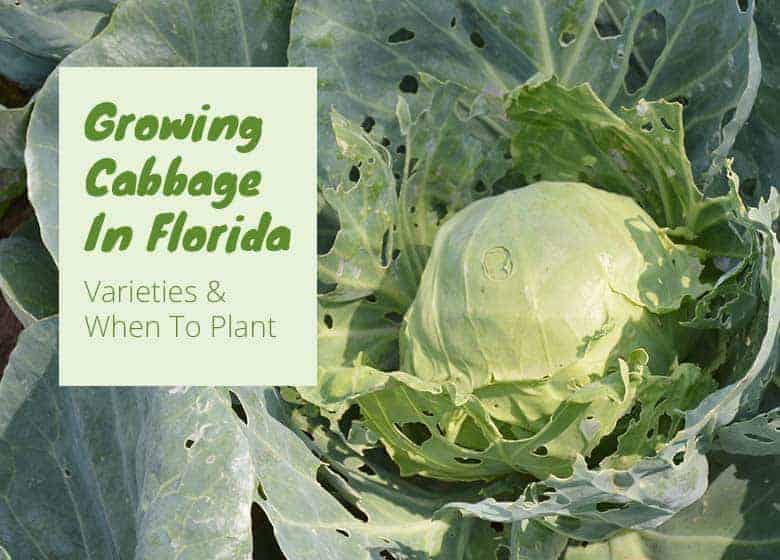 I've had great luck growing cabbage in my gardens. Cabbage loves our "cooler" weather.
If you try to grow cabbage in our summer months it will bolt.
however, if planted at the correct time you should have no problem growing this vegetable at all.
Florida Friendly Cabbage Varieties: Copenhagen Market, Flat Dutch, Red Acre, Rio Verde, Round Dutch, Savoy, Wakefield
I've always grown the Red Acre variety and this is by no means a complete list of cabbages that could be grown in Florida. There are tons of different varieties, sometimes you just have to roll the dice and see what happens.
Carrots
Carrots do not like to be transplanted. spread seeds around your garden where you would like them to grow.
The trickiest part of growing carrots is getting them to germinate. They usually germinate slowly and during that time you must make sure that they do not dry out.
Florida Friendly Carrot Varieties: Chantenay, Danvers, Imperator, Nantes
I like to over plant carrots, this makes sure that you get some to germinate. As the seeds pop up I like to thin them out to avoid over crowding.
Cauliflower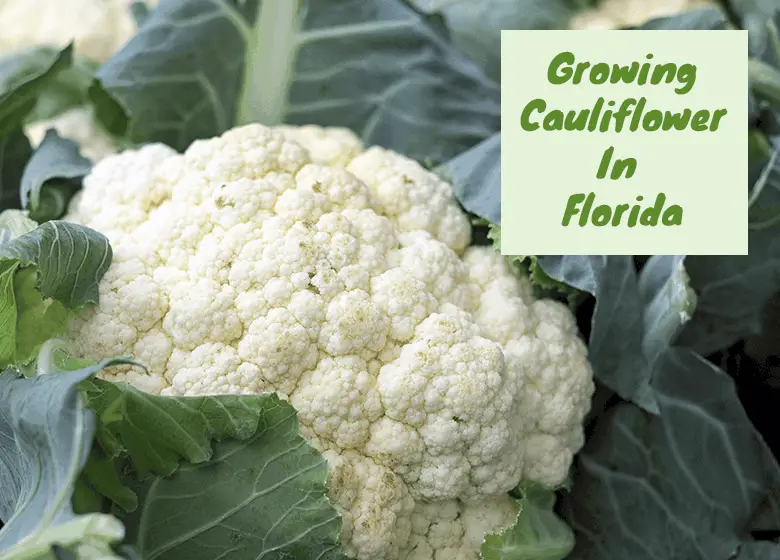 ok, so admittedly, this vegetable may be one of the tougher ones on this list. While the plants themselves are cold hardy, if a cold period hits while the cauliflower heads are maturing you may lose your harvest.
Florida Friendly Cauliflower Varieties: Brocoverde, Snowball Strains, Snow Crown
Others may find this vegetable very easy to grow but I've never had good luck with it.
Collards
One of the easiest to grow vegetables on this list for sure. Collards can grow almost year round in all parts of the state. The only time the collards will not grow in Florida is the cold north Florida winters and that hottest parts of the summer months.
You can litteraly plant any other time of the year.
Florida Friendly Collard Varieties: Georgia Southen, Top Bunch, Vates
I've always grown the Georgia Southen variety with great success in central Florida.
Corn
A good ol' American classic. corn must be planted in bunches. Corn needs other corn plants in order for pollination to happen. In order to have a good harvest of corn you need to stay on top of watering.
Florida Friendly Corn Varieties: Early Sunglow, How Sweet It Is, Silver Queen, Sweet Ice, Sweet Riser
The biggest pest you most likely will have to deal with is corn earworm. They like to hide near the tassels and inside of the husk. Spinoisad or B.t. can help you out there.
Cucumber
There are a few different types of cucumbers. Bushing types and vining types. There are also cucumbers that are grown specifically for pickling only.
Florida Friendly Cucumber Varieties: Ashley, Boston Pickling, Eureka, Market More 76, Poinsett, Space Master, Straight Eight
The biggest problem you will probably face with cucumbers is downy mildew. This will stunt the growth of your cucumbers. If you want more detailed information on growing cucumbers in Florida check this article out.
Eggplant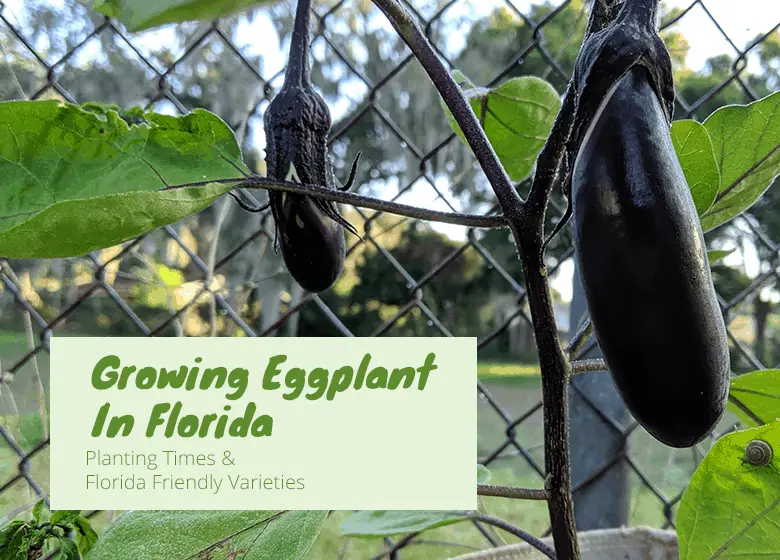 Eggplants love warm weather and are virtually pest free. You can expect to harvest this vegetable as we move into summer.
Florida Friendly Eggplant Varieties: Black Beauty, Casper, Cloud Nine, Dusky, Ichiban, Long
Eggplants come in all different colors and sizes, Black beauty looks like your common store eggplant but the Cloud Nine and Casper varieties are both different shaped white eggplant varieties.
Kale
I've found kale to be super easy to grow. Kale doesn't like our super warm weather so you should avoid planting and growing during the warmest months.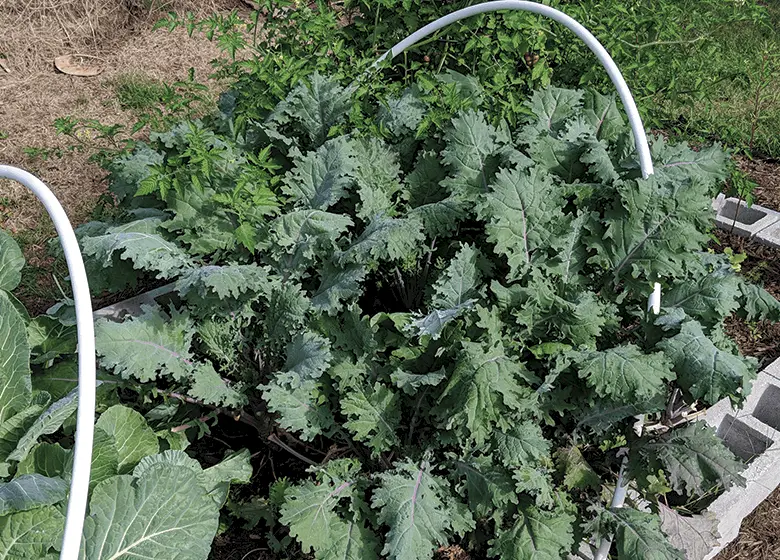 Florida Friendly Kale Varieties: Redbot, Tuscan, Vates Dwarf Blue Curled, Winterbor
Kale is high in nutrition and super easy to grow in the early fall and into the springtime in Florida. For more info on growing kale in Florida check out this detailed article I wrote about it.
Kohlrabi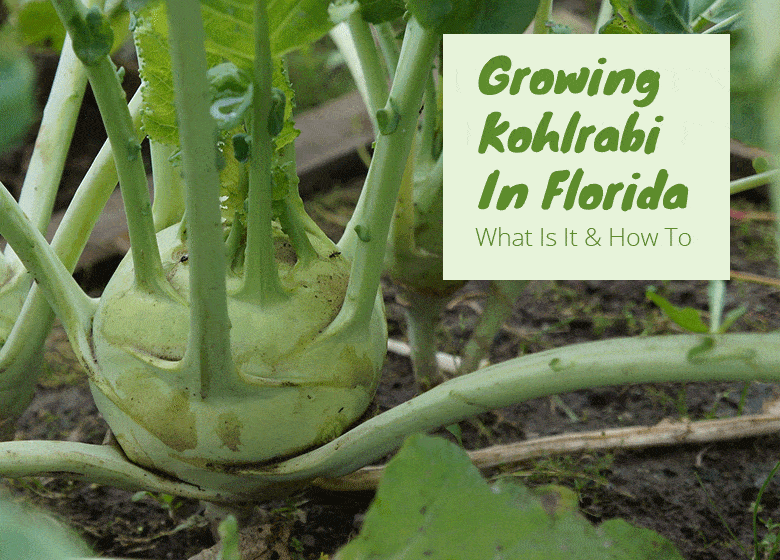 This is one of the lesser known vegetables on this list. Kohlrabi is kind of like a beet or a turnip that grows above the ground. The leaves are also edible but the whole plant looks so alien.
Florida Friendly Kohlrabi Varieties: Early White Vienna, Early Purple Vienna, Grand Duke, Kolibri
Kohlrabi matures fast and can withstand a light freeze even. You can harvest in around 2 months time. Plant during the cooler months of Florida in full sun.
Lettuce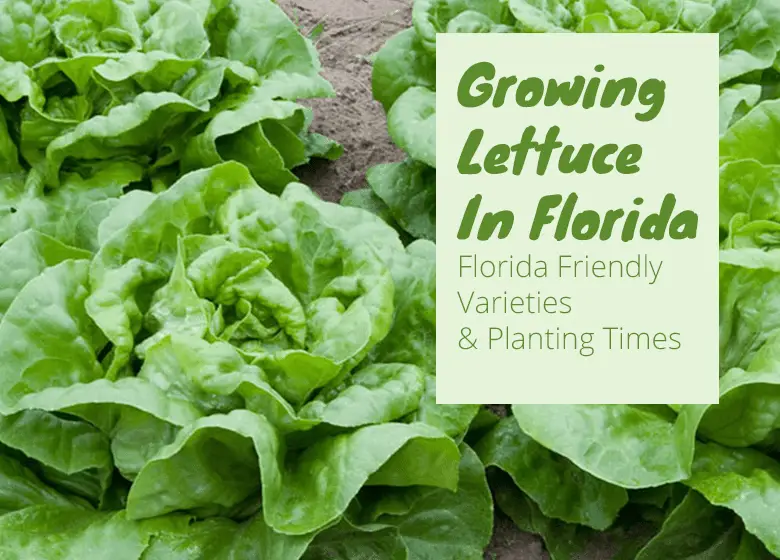 You must grow lettuce in the cooler months of Florida. If lettuce is grown during the warmer months it will 'bolt' and the leaves will taste bitter. When a plant 'bolts' that means it is starting to produce flowers and seeds.
Florida Friendly Lettuce Varieties: Bibb, Buttercrunch, Ermosa, Great Lakes, New Red Fire, Oak Leaf, Outredgeous, Parris Island Cos, Red Sail, Royal Oak, Salad Bowl, Simpson, Tom Thumb
Even though lettuce likes cooler weathers that does not mean that it like frost. Those in north Florida will have to plant before fear of frost. Luckily lettuce matures fast. You can usually expect to harvest lettuce in about a month or two.
There are many different varieties of lettuce that you can grow. Bibb lettuce, Crisp Head lettuce, Romaine, and Leaf lettuce. For a deeper deep into growing lettuce in Florida Check out this article I wrote.
Mustard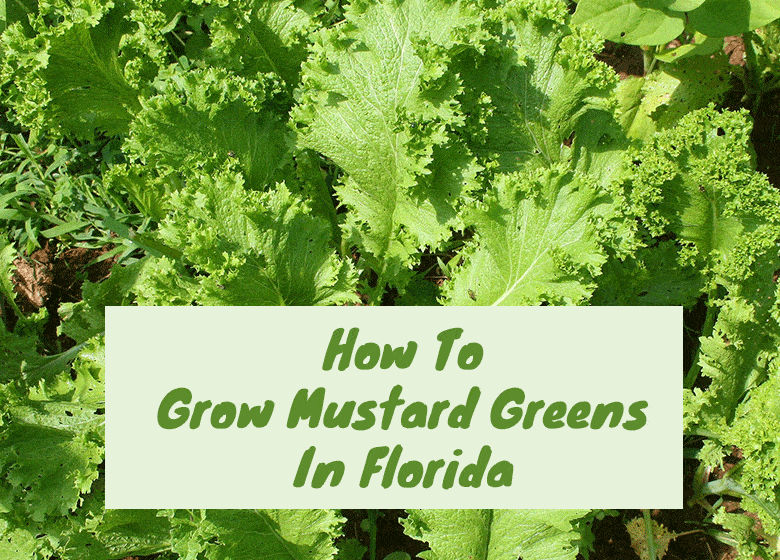 This vegetable would put up a really good fight for the championship of the easiest vegetable to grow in Florida. Mustard doesn't really care too much about the soil that it is planted in as long as it has a bit of water and sunshine.
Florida Friendly Mustard Varieties: Florida Broadleaf, Giant Red, Green Wave, Mizuna, Southern Giant curled, Tendergreen
Mustard grows quickly, you can harvest within 45 days of planting. You shouldn't have a problem direct sowing seeds straight into the garden.
Okra
Another contender for the title of easiest vegetable to grow in Florida, Okra loves the sun and the heat. It can actually withstand our Florida summers.
Florida Friendly Okra Varieties: Annie Oakley II Cajun Delight, Clemson spineless, Emerald
Okra has beautiful flowers and is actually part of the same family as the hibiscus plant. There are a handful of varieties that grow in Florida but realistically you should stick to the Clemson Spineless.
As the name suggests, it is spineless. Other varieties have pointy bits on them that make care and harvesting a pain, literally.
Onions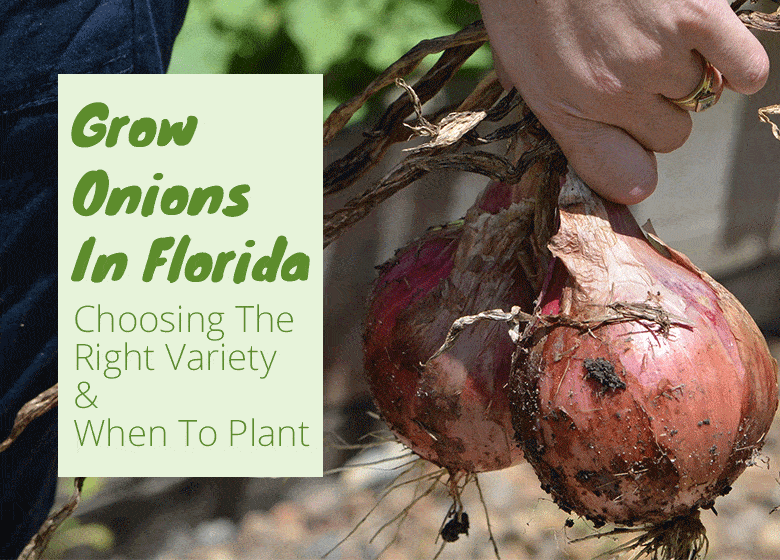 There are a few different kinds of onions: shallots, bulbs, bunching, and chive.
All are relatively easy to grow in Florida, I've had good luck with chives especially.
Florida Friendly Onion Varieties: American Flag, Evergreen Bunching, Granex, Shallots, White Libson Bunching
All of the above-mentioned varieties are short day varieties. There are also long day varieties. short day varieties will begin to bulb when they have about 10 hours of daylight. Long day onions need about 14 hours of daylight in order to properly form.
Onions prefer full sun and cool weather. Plant during our fall time, September through March in all parts of the state.
I think it's easiest to grow onions from transplants. Bulb onion transplants can be bought in bulk just like regular seeds. These are called 'onion sets' and they give you a good head start.
Peas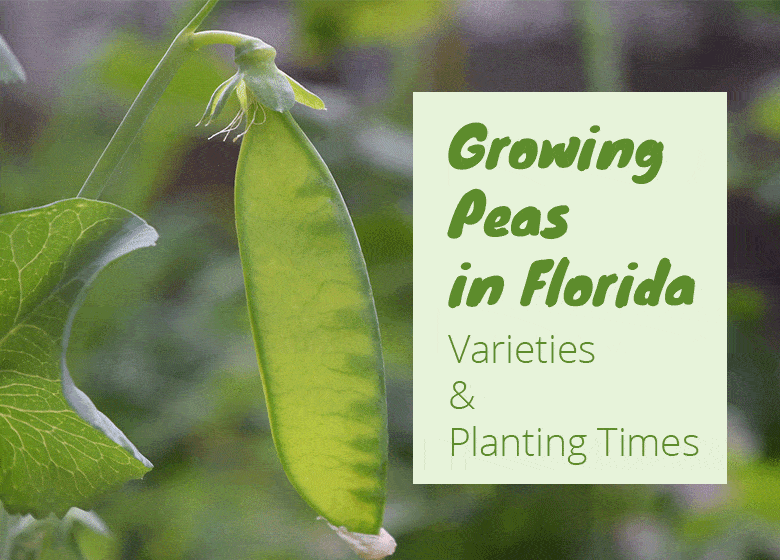 There are a bunch of different kinds of peas that you can grow here. English peas, snow peas, Southern peas, and snap peas all grow easily in Florida.
Florida Friendly Pea Varieties: California Blackeye No.5, Green Arrow, Oregon Sugarpod II, Pinkeye Purple Hull, Sugar Snap, Texas Cream, Wando
In north Florida you should plant your peas January through March. In Central and south Florida you should plant peas from October through February.
Peas prefer our cooler months but they still don't like it too cold. Peas will be damaged by frost conditions.Those in north Florida should look out for that.
Peppers
Peppers love the heat. I'm in central Florida and I've had pepper plants that have lived multiple years. If established they can take the summer heat and light chills.
In north Florida you will definitely have to worry about the winter time when frosts and freezes roll in, this will kill your pepper plant.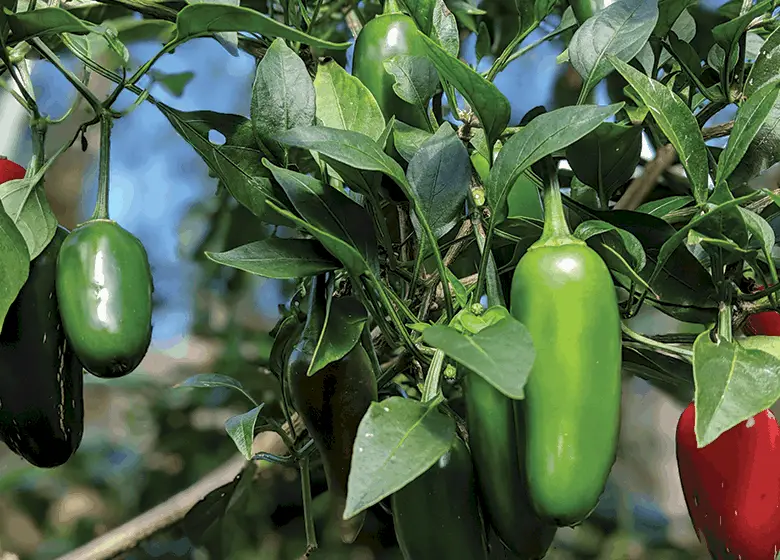 There are so many different kinds of peppers that you can grow. Jalapenos, bell peppers, banana peppers, cayenne, habanero. The list goes on.
Florida friendly pepper varieties: Anaheim Chile, Ancho, Big Bertha, Big Chile II, California Wonder, Caribbean Red Habanero, Cherry Bomb, Cubanelle, Early Jalapeno, Giant Marconi, Habanero, Hungarian Hot Wax, Jalapeno M, Long Cayenne, Mariachi, Numex, Red Knight, Sweet Banana
For more info on growing peppers in Florida check out this article I wrote.
Potato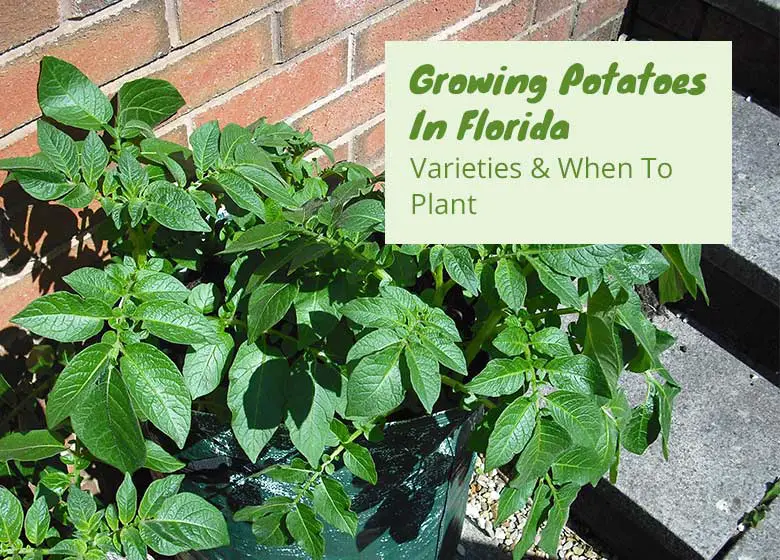 Potatoes are a "cool" season crop that enjoys full sun. Potato's need heavy fertilizing in order to produce. It's easiest to grow potatoes from 'eyes'. these are basically growths off of a mature potato.
You can find these online or you can buy some potatoes from your local organic grocery store and wait for them to pop up. common grocery store potatoes have most likely been treated with hormones and that prevents them from sprouting.
Florida Friendly Potato Varieties: Gold Rush, Red Pontiac, Yukon Gold
If you're in north or central Florida January through February. In south Florida plant September through January.
Radish
Radishes are spicy root vegetables that grow quickly. You can pick your radish about a month and a half after you plant it.
They don't need much space to grow so you can get a lot of bang for your buck with them.
Florida Friendly Radish Varieties: Cherry Belle, Champion Daikon, Sparkler, White Icicle
These aren't the only kinds of raddishes that you can grow in Florida. To get more radish varieties for Florida check out the article.
Spinach
'Traditional' spinach (Like the stuff you get from the store) is grown in Florida during the coolest months. When spinach sees warmer temperatures it begins to bolt and this causes the leaves to taste bitter.
However, there are is a spinach alternative called 'malabar spinach'. While not actually spinach it shares a similar taste and can take warmer temperatures.
Florida Friendly Spinach Varieties: Bloomsdale Longstanding, Malabar Spinach, Melody 3, Space, Tyee
The best time to plant spinach in north and central Florida is October through November. In south Florida you can plant October through January.
Squash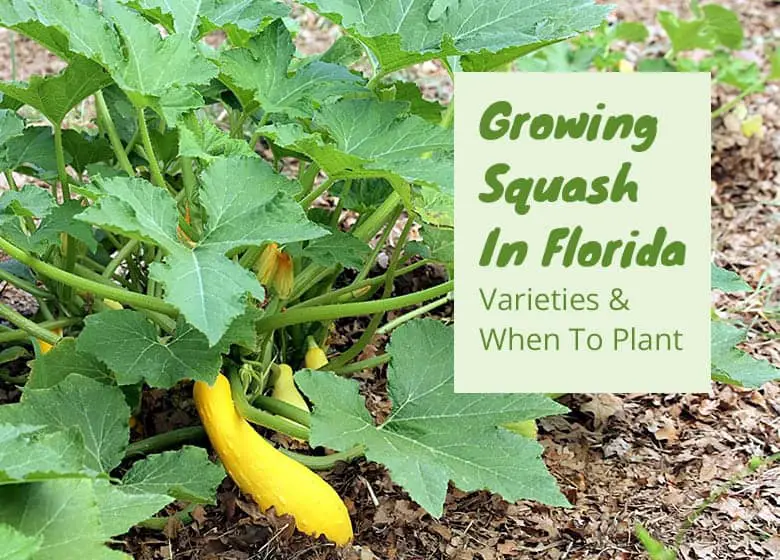 There are tons of different kinds of squash but to simplify we can break them down into three different kinds.
Summer, winter, and Zucchini. Summer squash is usually grows more like a bush than winter squash. Winter squash grows more like a vine, spreading across the ground.
Florida Friendly Squash Varieties:
Summer Squash: Chayote, Early Prolific, Early White scallop, Straightneck, Summer Crookneck
Winter Squash: Early Butternut, Spaghetti, Seminole Squash, Table Ace, Table King, Waltham
Zucchini: Black Beauty, Calabazza, Cocozelle, Spineless Beauty
Seminole Squash is probably the easiest squash to grow on this list. the native Americans that lived in Florida used to grow them as a primary food source.
some squash issues that you may need to look out for are downy mildew, powdery mildew and stem borers.
Sweet Potato
When I grew sweet potato it grew like a weed. It loves the warmth, it is one of the only vegetables that can be grown in Florida during the summertime.
I seriously neglected my sweet potatoes, (In fact most of the garden, because it was summertime) and these things took over.
Florida Friendly Sweet Potato Varieties: Beaugard, Boniato, Centennial, Vardaman
Plant sweet potato slips in the springtime and grow them into the summertime. After your sweet potatoes are established you can clip off new growth and propagate plants that way.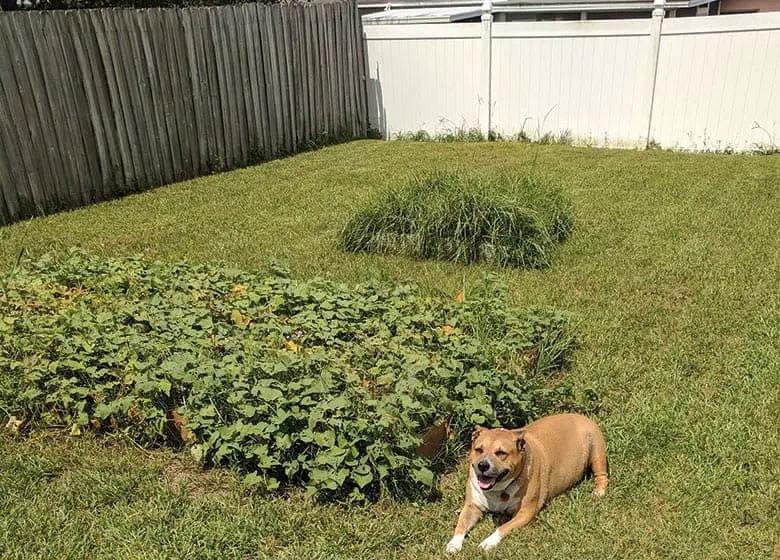 I harvested what I thought were all of the sweet potatoes from our garden a few years ago but we must have left some root bits in there because it popped back up and grew another whole harvest of sweet potatoes.
Swiss Chard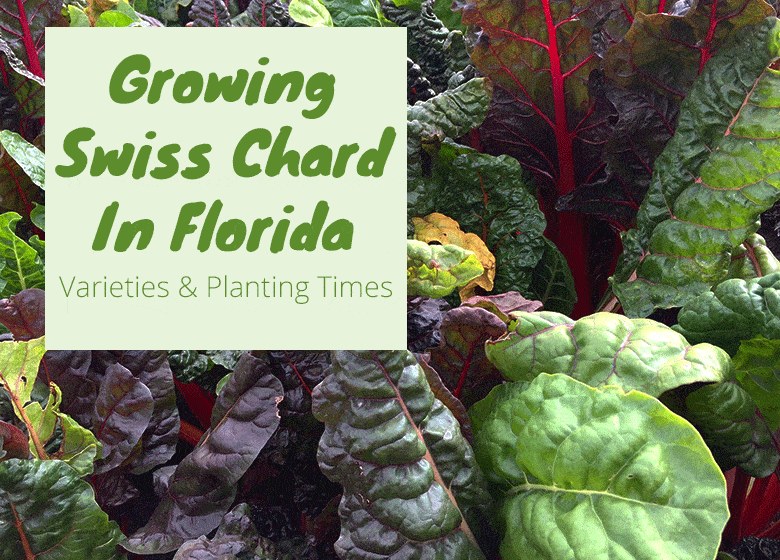 Swiss chard is an easy to grow salad green that enjoys the fall time in Florida. In north Florida, you can begin planting in September. In central and south Florida you can plant in October.
Florida Friendly Swiss Chard Varieties: Bright Lights, Bright Yellow, Fordhook Giant, Lucullus, Red Ruby.
Bright Lights is a very visually appealing. it has deep green leaves and bright red or orange stems. You can usually begin harvesting your swiss chard in about two months after planting. Take the lowest and outer most leaves.
Tomato
One of the most popular vegetables on this list. When you think of home gardens you instantly think tomatoes. Everybody says how easy they are to grow online but honestly at first, I had a tough time growing them.
They would always get attacked by pests or diseases. I've found it true that lots of box stores sell tomato varieties that aren't exactly Florida friendly. There are literally thousands of varieties to choose from.
Let's break tomatoes down into two separate categories. Determinate and Indeterminate. Determinate variety tomatoes will grow to a set, or determined, height. While indeterminate varieties will continue to grow and grow as long as conditions allow it.
Florida Friendly Tomato Varieties:
Determinate: Celebrity, Flora gold, Tasti -Lee
Indeterminate: Better Boy, Bonnie's Best, Everglades, Husky Cherry, Solid Gold, Striped Cavern, Sweet 100, Sweet Chelsea
There are different sized tomatoes as well, some large and some small. I'm a big fan of growing Everglades tomatoes. They have been the easiest tomato I have ever grown. They make small dime sized tomatoes and can take a serious beating.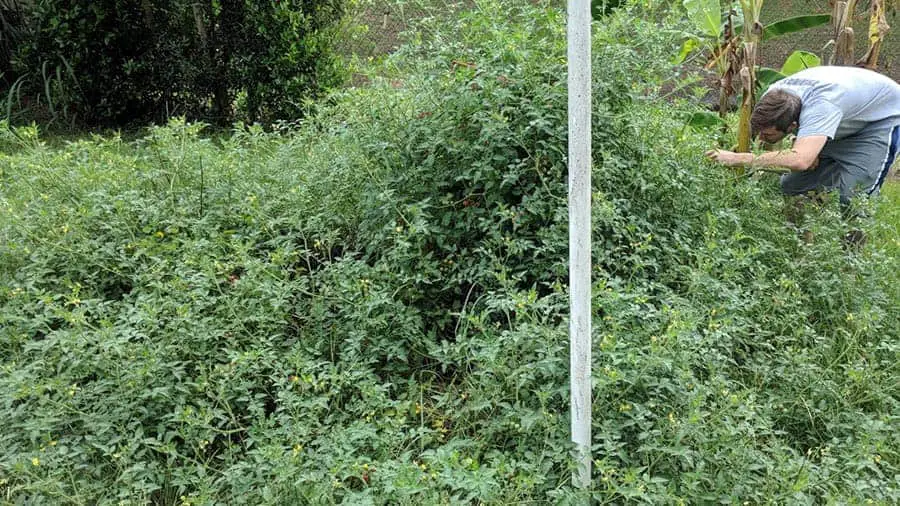 I haven't found a large-sized tomato that I can grow like I can the everglades tomatoes, If anybody has grown a large tomato that spreads like a weed put the variety down in the comments.
In north and central Florida you can plant tomatoes once in March and once again in August. In south Florida you have an extended growing period of August through March.
Turnip
With turnips you can eat both the root and the leaves. The roots are slightly bitter tasting and the greens are great to add to stews and thangs.
Turnips are easy to care for. All they need is full sun and plenty of water.
Florida Friendly Turnip Varieties: Purple Top White Globe, Seven Top, Shogoin
Purple Top White Globe is the most common turnip grown in Florida. It's got both tasty leaves and root.
Turnips are quick growing and ready for harvest about two months after planting. In north and central Florida you can plant from September through February and in south Florida you can plant from September through January.
Additional Info
All of the planting times listed here have some slight wiggle room. Some years are colder than others and some years are warmer than others. The dates mentioned above are based on average dates of last frost as well as average high temperatures.
One cold night can roll in and wreck your veggie garden so don't think of these dates as set in stone but use them as a guide as well as your awareness of your local weather.
When growing veggies it's never a bad idea to build your soil. If you are planting into raised beds or containers I have always had good luck with a soil mix that looks like this:
Growing Vegetables In Florida
If you want a little more info on growing vegetables in Florida, check out this article. It's got some things that I've picked up along the way that I think will be really helpful for anybody just starting out.